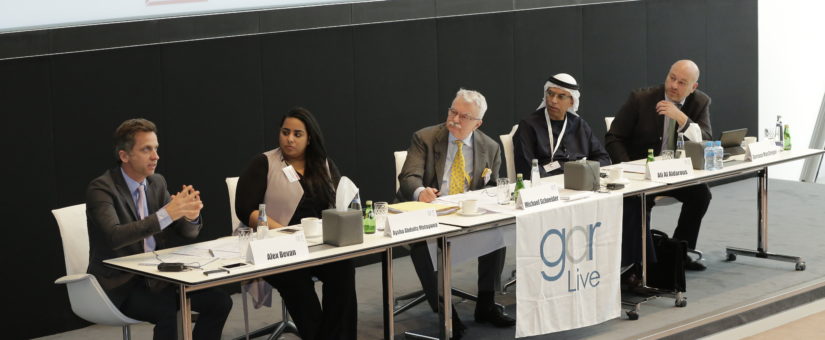 Posted by Sara Alawi
On March 7, 2017
0 Comments
On 22 February 2017, Abu Dhabi Global Market (ADGM) hosted the 2nd Annual GAR Live Abu Dhabi event.  The event, attended by a cohort of international dispute resolution practitioners from across the MENA region, addressed a variety of issues including: major challenges in international arbitration, the contrast between common and civil law practices, the rise of new independent jurisdictions (such as the DIFC and ADGM), the impact of free zones, and the role of dispute resolution boards in construction disputes.
Aysha Mutaywea (Mena Chambers Bahrain), joined Michael Schneider (Lalive), Alex Bevan (Sherman & Sterling), Ali Al Aidarous (Aidarous International) and Gervase MacGregor (BDO) on the panel to discuss whether the MENA region is a legal melting pot of legal cultures.  The session started with an introduction to the history of the UAE courts and the rise of common law courts (otherwise known as offshore courts).  Thereafter, the panelists compared legal cultures in the MENA region, discussed the influence of common law in civil law jurisdictions, and the effect of free zones.
Aysha spoke about the evolution of legal practice and culture in Bahrain and the history of the Bahrain Chamber for Dispute Resolution (BCDR-AAA).  She underlined the benefits of the BCDR-AAA judicial procedure, a hybrid system combining best arbitration practices with local litigation practices, and attributed its success to the integration of local legal culture and language which resulted in the creation of a highly effective dispute resolution mechanism.