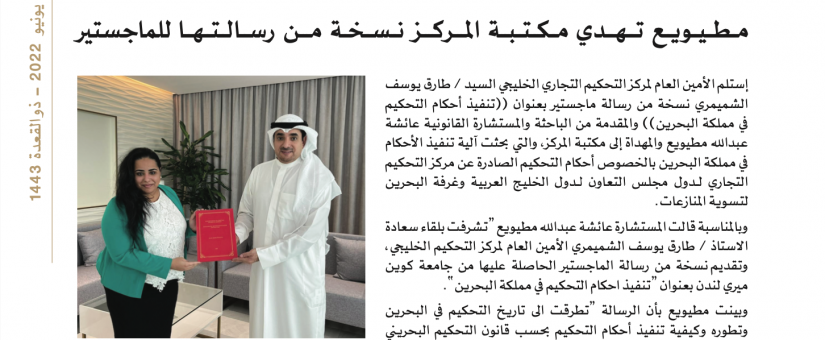 Posted by Isra Alaradi
On June 19, 2022
0 Comments
G.C.C Commercial Arbitration Centre ("GCC-CAC") Secretary-General, Mr. Tareq Yousif Al-Shumaimry, received a copy of Ms. Aysha Mutaywea's Master's dissertation entitled "Enforcement of Arbitral Awards in Bahrain – With Special Reference to BCDR and GCC-CAC", submitted to Queen Mary University of London.
The dissertation provides an in-depth exploratory foray into the recognition and enforcement regime of arbitration awards under the laws of the Kingdom of Bahrain. In exploring the enforcement procedures under the commercial arbitration law of Bahrain, the dissertation places a particular emphasis on arbitral awards rendered in the Bahrain Chamber for Dispute Resolution ("BCDR") and the GCC-CAC.
The Secretary General praised Ms. Mutaywea for her high level of professionalism in the formulation of the dissertation paper and wished her greater scholarly and practical success.